Are you perhaps thinking of how to let your kids spend their time inside but at the same they can still have fun? Or are you a teacher who considers new creative ideas in making the class even more alive? Maybe it is time to bring the crafting project out. Crafting itself comes in numerous ideas of what kids can do, like coloring, drawing, cutting shapes, or gluing it to the new creative wall. Those activities are fun to try and unfortunately there is an assumption that the preparation may take longer for parents or teachers. If that is the case, you do not need to worry anymore. Here, we present you with the idea of having fun doing crafting projects with kids by downloading our free printable tree template. You can do different kinds of activities with that as you move through the end of the article, to see the templates we provide just for you.
How to Print Tree Template?
Our printable tree template comes so handily with just one click away to make it yours. There is a download button for each template and each of the files can be printed out easily. You can use the print you have at home and print as many copies as you want to be used for personal or for classroom purposes.
Benefits of Using Tree Templates
There are numerous benefits that one can have by using our collection of free printable tree templates. Crafting is one of the best things to do with kids and letting them draw, decorate, color, and cut shapes of the trees builds their creativity as they explore colors and shapes. They can also learn some names of the trees that they have not seen before. With good guidance from the teachers and parents, kids know how the appearance of some parts of the trees like the trunk, twig, and leaves. A lot of benefits come from using these tree templates, and the best thing is it is not merely for kids to learn but also for them to have fun.
What are Types of Tree Templates Available?
Nowadays, many websites present different styles of tree types for kids' templates. Some of the popular tree types are pine tree, Christmas tree, apple tree, and a simple basic tree. These types are also available in our collection. The main reason why we provide several types of trees is to get kids familiar with numerous types of trees out there. It is also good for them to be creative in decorating each of the trees; as each tree has different characteristics than others. So, check out our templates and start having fun with them.
Kinds of Free Printable Tree Template
This series of printable tree templates allow you to make use of the media for any situation, whether it is at home or school. Each template is designed differently from others to let the users expand as many activities as they can do with it.
Apple Tree Leaf Colouring Pages
The first template shows the sketches of the apple tree and its fruits and leaves that are designed close to the real object. It lets the kids learn and notice how apple trees are different from other trees. The template allows the kids to color the leaves to make it even more interesting.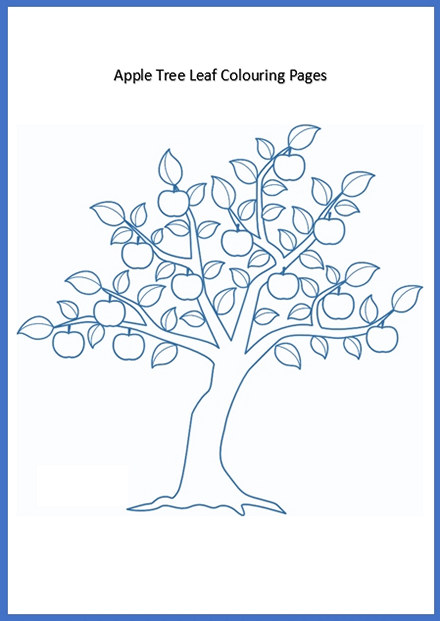 Apple Tree Leaf Colouring Pages
Christmas Tree Coloring Pages
Everyone loves Christmas trees, and so do we. Here, we provide you with a majestic Christmas Tree template that looks so beautiful even before being decorated. Let the kids explore their creativity by decorating the Christmas tree with the colors they want.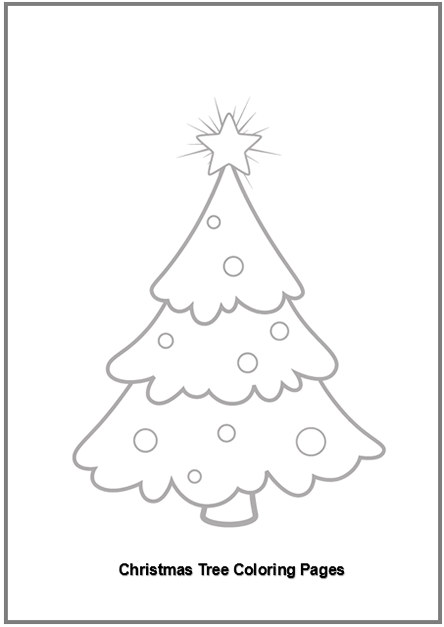 Christmas Tree Coloring Pages
Coloring Tree Kids
Teach your kids to play with colors and let them explore the fun in it. The activity can be done by using this coloring template where kids apply colors to the trees. Ask them to be bold and praise them to do a good job with this template.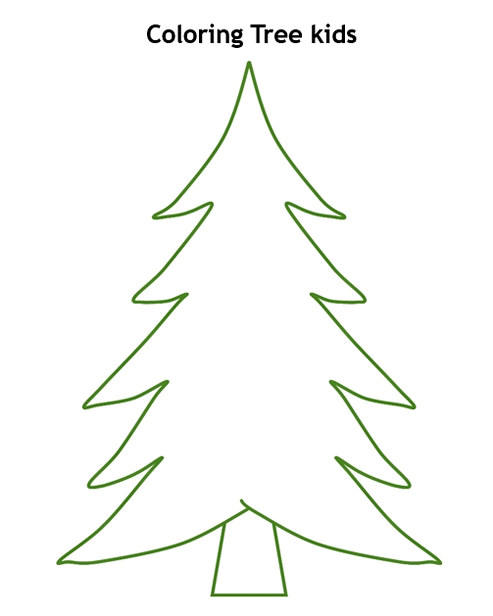 Coloring tree kids
Oak Tree Template
Introduce kids with a huge oak tree by using this template. It is easy to have the file just by clicking the download button. Kids can do some activities with this template namely coloring, cutting the shapes, and putting them on the creative wall in their room or a classroom.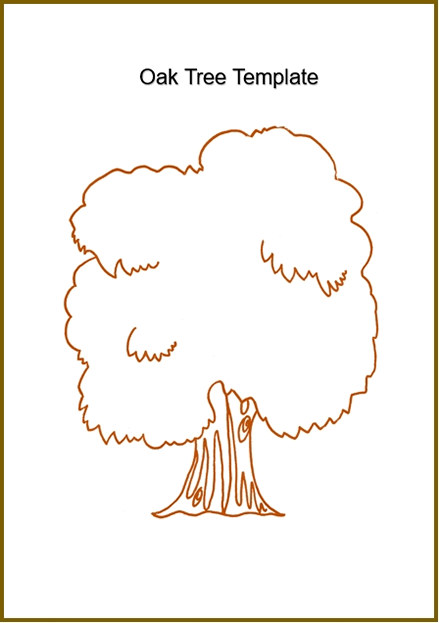 Oak Tree Template
Outline Trees Coloring
Sometimes it is good to let kids know about the outline of the tree. This way they will know how trees without leaves look like. It trains the kids' creativity by letting them decide what colors can work for the template. It is surely a fun activity to do with the kids.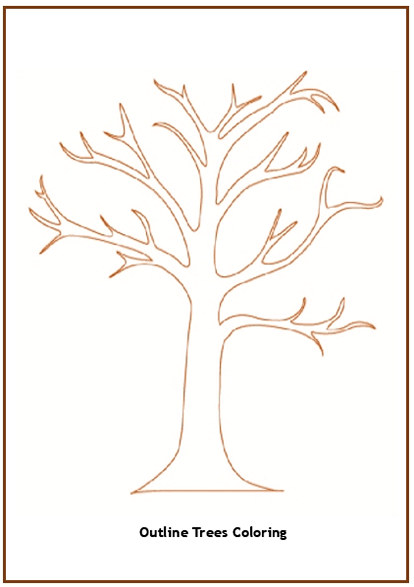 Outline Trees Coloring
Printable Tree Twig
This template shows the tree twig for kids to color and does some fun with it. The teacher and parents can guide the kids to help them with the idea of what they can do. It is very easy to use and it takes not more than five minutes to have it on your PC.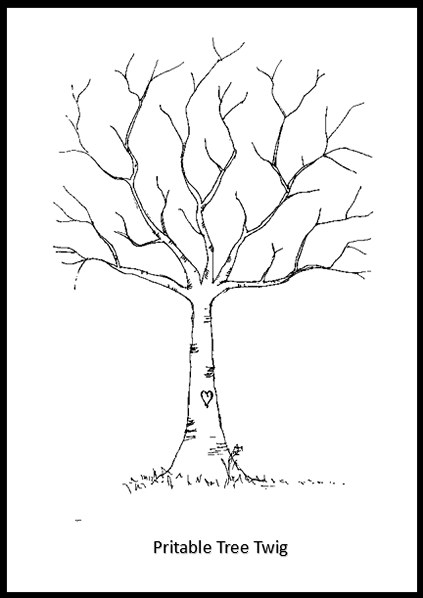 Pritable Tree Twig
Southwestern Native American Coloring Page
This tree template presents you with the Christmas-look tree that is full of decoration. It is designed attractively for kids where they can have fun by coloring the tree or adding more decorations. It is an effective activity to kill the time.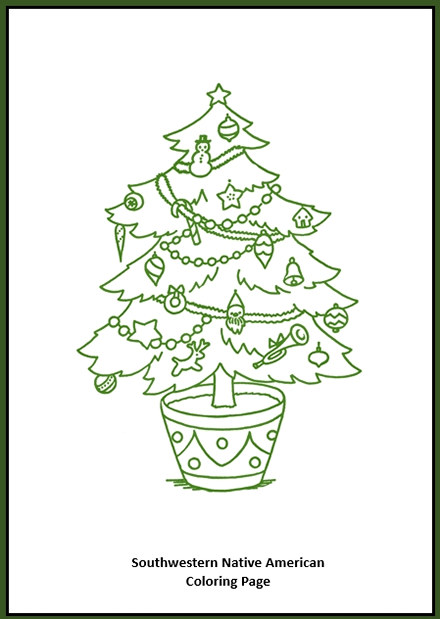 Southwestern Native American Coloring Page
Tree Outline Printable
This time the template provides the outline of the tree where kids know how it looks without the leaves. It can be something new for them to see but parents and teachers can assist them during the activity.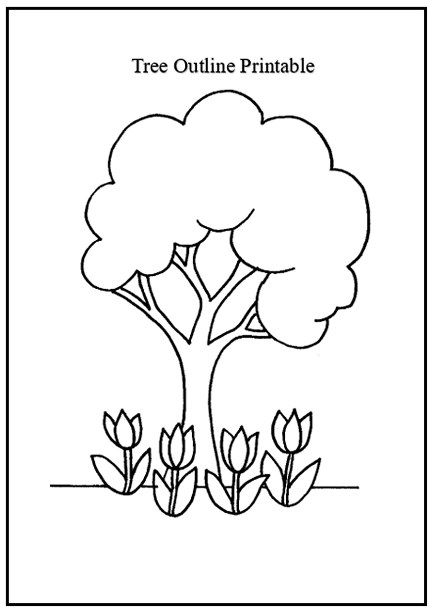 Tree Outline Printable
Tree Coloring Pages for Kids Printable
If you want to have the tree templates for coloring, this one works well for you. The template is designed perfectly for kids to color and do some decorations. This template is suitable for young kids around the kindergarten level.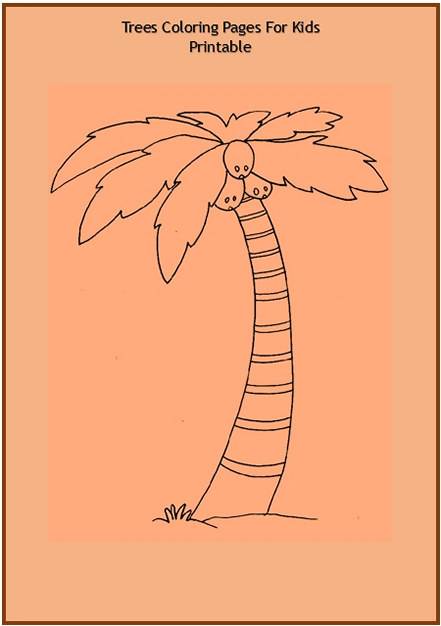 Trees Coloring Pages For Kids Printable
Trees Printable Example
The last tree template is universal to use as it pictures the sketch of a tree with huge leaves and a big trunk. Kids can play with the colors to make them colorful and more interesting.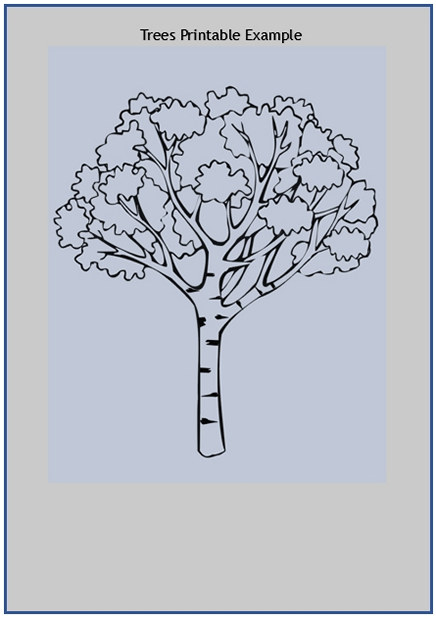 Trees Printable Example